Bald Eagle Sighting at The Parklands Of Floyds Fork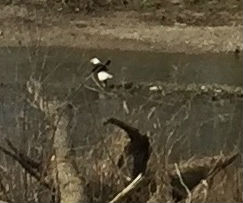 I recently heard that bald eagles had been spotted at The Parklands of Floyds Fork so I decided to go out on a bike ride to relieve some stress before my afternoon showings to see if I could find him. Usually when I bike The Parklands I park my car at the very first parking lot at the top of the hill, but this time I decided to park at the egg lawn to cut out the big hill on the way back. I knew I would be cutting it close on getting to my afternoons showings and I didn't want to fight that tremendous switchback climb on the last leg of my ride. So I took off from the egg lawn just mildly uncomfortable from the cold looking to the tree tops in hopes to see my very first bald eagle in its natural environment. I was only about five or ten minutes into my ride when i noticed a silhouette of a large bird perched high in a tree right at the Sara and W.L. Lyons bridge opposite the valley of the giants trail head. I jumped off my bike to get a closer look as I was doing so I reached for my iPhone to take pictures and videos.

As soon as I got beneath this incredible raptor he flew from his branch into the creek below. I was within twenty yards of him and just as I turned the video off to try and do Facebook live he pounced in the creek and flew off with what seemed to be a fairly large trout. I was absolutely amazed and thankful at the same time. What an incredible creature and what incredible blessing The Parklands are to our city. It's my family's favorite park and a place where I already have so many great memories. If you're a nature lover you have to go check this out.