Gallrein Farms Visit
Our Visit To Gallrein Farms for Pumpkin Picking and a Visit to The Petting Zoo.
Want to know what I love about fall? Everything! There's the crisp, cool weather, football games, the turni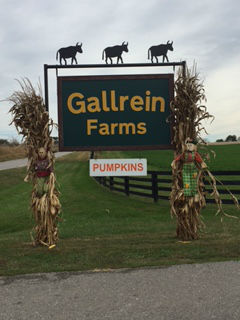 ng of leaves, trick-or-treating, bonfires, boots and scarves, and my favorite; the pumpkin patch. What's not to love about spending the day with your family picking pumpkins and apples? One of my favorite orchards in the Louisville/Shelby County/Frankfort area is Gallrein farms. Some of the other orchards in the area get so crowded around this time of year that it's hard to enjoy all that they have to offer. Gallrein is sort of a hidden gem. Many people know about it, and there are definitely a lot of people on the property when you go to visit, but it never seems overcrowded. I took my two daughters to Gallrein Farms late last week as were in search of tiny pumpkins for my daughter to take to a get together with some of the kids in her preschool class. We had so much fun wandering around the main building looking at all of the pumpkins! What I love about Gallrein's is that you have the option to take a hayride into to a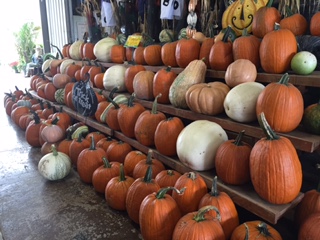 field and pick the pumpkin of your choice, but if you'd rather browse the ones that have already been picked, there is a great variety to choose from. One thing I discovered this year is that there is such thing as a gray pumpkin. I fell in love! After our daughter picked the six most perfect pumpkins, we visited Gallrein's deli and candy shop. It is such a quaint little county spot with dim lights, round tables and food that smells delicious. On Tuesday's and Thusday's you can visit the property and grab lunch.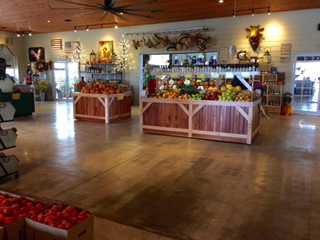 My daughter browsed the homemade candy with wide-eyes and eventually chose a slice of peanut butter fudge with candy corns on top. It was delicous to say that least. The last thing that we did at Gallrein's on our visit was check out the petting zoo. For one dollar you can purchase an ice cream cone with animal feed in it for the animals, then you can visit the petting zoo where there are donkeys, llamas, pigs, rabbits, chickens, kangaroos and even two camels. Be warned, if you visit the petting zoo at Gallrein Farms, the camels will want all of your animal food! My daughter especially loved seeing the two kangaroos that live on the farm. Although our visit to Gallrein's Farms consisted of candy, the petting zoo and browsing for small pumpkins, there is so much more to do. There is also a playground, haystacks, games, shopping for home decor, and apple picking. If you're looking for a hidden gem in the Lousiville area, check out Gallrein Farms!