Build Your Own Stir Fry at Genghis Grill in Springhurst!
I ventured over to Genghis Grill in Springhurst last week for lunch. Even though the restaurant was packed, I was pleasantly surprised that the atmosphere was relaxing and not hectic. First and foremost, I was greeted by the host and he asked if I had been there before. Since it was my first time, I was glad that he willingly walked me through the process. After being seated, my waitress came by quickly and also gave a brief synopsis of the process.
And then the fun began—creating my own stir fry! I selected my bowl size and then added my ingredients from there. The small size, even though it doesn't look like much, was actually enough for me. I started with selecting my protein. From chicken to steak and from crab to bacon, there are several options for protein and I could pile on as many as I wanted! Then I chose my seasoning, veggies and sauce. Let me tell you about the veggie selection! There were potatoes, water chestnuts, eggs, zucchini, spinach—really any veggie that you could every want. All of that was in my bowl at the beginning and then once I arrived at the grill, I had the option to add one of these sides—steamed rice, brown rice, fried rice, Udon noodles, spiral pasta, tortillas, cabbage.
I have been to restaurants similar to Genghis Grill and I usually have to wait in line at the grill while they cook my food. Sometimes the line can get long and I end up waiting for awhile in-between hungry restaurant goers. Genghis Grill is different! I dropped off my bowl at the grill, the cooks took down my name and any preferences, I sat down at my table and then the cooks brought out my dish right to me! This takes the long line waiting period out and I was able to relax and enjoy my dining experience!
Once my food arrived at my table, I took the first bite and I my taste buds were screaming for more! I ate slowly so that I could fully enjoy each and every bite! Maybe I am a master at choosing spices and sauces (maybe not). Instead, I believe that Genghis Grill has quality food and any spice and sauce combination is good there!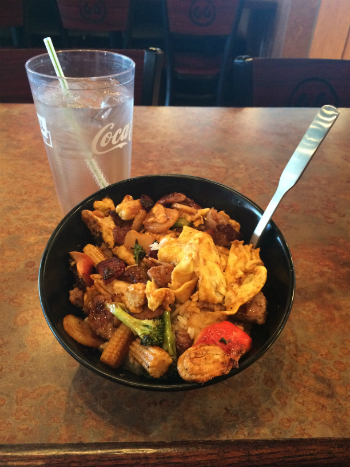 Even though I wasn't terribly hungry after my meal, I couldn't help but notice the dessert menu and I couldn't resist the Cookie Butter Crispy Wontons dessert. According to their menu, this dessert is "seared wontons, stuffed with cookie butter, served fresh off the grill with creamy vanilla ice cream and chocolate sauce." Pause and re-read that description. Wow! Cookie butter is one of my weaknesses so I indulged. It was truly sensational! I couldn't finish the entire dessert, but I made a valiant effort.
In summation, Genghis Grill is a great place to eat and Springhurst is an even greater place to live!