Village Anchor, Anchorage Kentucky REVIEW
Megan and I have really been blessed to visit some of the top restaurants in Louisville recently with Village Anchor being one of them. As soon as you step in the front door you can tell your in a special place the atmosphere just oozes class and charm just like the homes in Anchorage.
The special that day was monk fish over rice and heirloom carrots and because I had never had monk fish nor heirloom carrots I had to give it a try and I wasn't disappointed. The fist was white and flaky and the carrots were awesome.
Megan had the Chicken Saltimbocca, she pretty much orders chicken or steak no matter where we go and never eats all of her meal, leaving me to clean her plate once she is full. This chicken was fantastic it was tender and juicy and had a great flavor. We also order a kettle of coffee which came with creamer and chocolate chips. The coffee was great and not too strong so you can drink it at dinner on a cold winter day and it wont keep you up all night.
If you are looking for a good restaurant to celebrate a big occasion or just want to make your loved one feel special the Village Anchor in Anchorage Kentucky will make you look like a hero. There are so many unique items on their menu and the fact that it's nestled right in the middle of such awesome historic Real Estate make it a must visit establishment.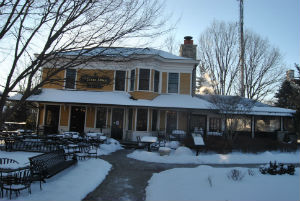 ...