There's dog etiquette for the dog park, on and off-leash walking, and public places, but who knew there was dog etiquette when it comes to selling your home? Luckily now you do, so you can use this guide to take the proper steps to ensure your home makes the first impression you need to get you one step closer to Louisville.
Besides, the sooner you get there the sooner you can leash up and explore the city. First, fuel up at one of the many dog-friendly restaurants nearby. While your food settles, take the tram through the Mega Cavern that goes under the city of Louisville or enjoy a glass of wine at Vines & Canines. Once you're ready to up the activity, go for a casual stroll in Iroquois Park or let your pooch have some off-leash fun at Vettiner Dog Run.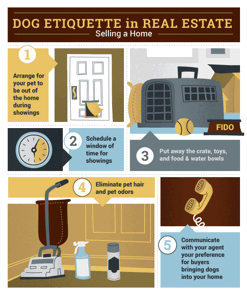 For more information:
Visit rover.com...