The Best Streets in the Highlands for Christmas Lights!
It's that time of the year, folks! Everyone gathers around to light up their houses and businesses and Louisville, Kentucky is no exception to this tradition. Everywhere you look, you're bound to find lights in every part of town. That was my experience when I sought after the best-lit parts of one area of town: The Highlands! This area in particular is known for its edgy, unique, thriving personality. The Highlands tends to be its own little town within the big city of Louisville. The community loves to come together to make the area one-of-a-kind and the holiday season definitely inspires the creativity for which this part of town is known.
I took a big journey throughout the Highlands to seek out the best streets and houses that outdid themselves and truly wowed me. The Highlands is one of my favorite parts of this town so this wasn't just a project to me. If I tried to tell you the route I took, you'd be turned around every which way. So let's take a tour through the Highlands with the pictures I took to appreciate the work these people put into their houses to show the best holiday spirit.
First, I took a trip down Eastern Parkway, going toward the park. From Bardstown Road to the end of the Parkway, there are too many houses to look at without slowing your car down. This is definitely one of my favorite streets because of the big, historical houses and it's fun to see them decorated with their owners' unique styles. This is one of the three streets I've voted the best to drive down if you want to feel as though you're driving through a winter wonderland.
I eventually made my way to the western side of Bardstown Road, which I found to be more decorated than the eastern side. I ventured down Hepburn Avenue, a street I'm familiar with as a relative lives there. I was impressed by the different styles, especially this one (please excuse the quality of some of my photos; I only had my iPhone with me):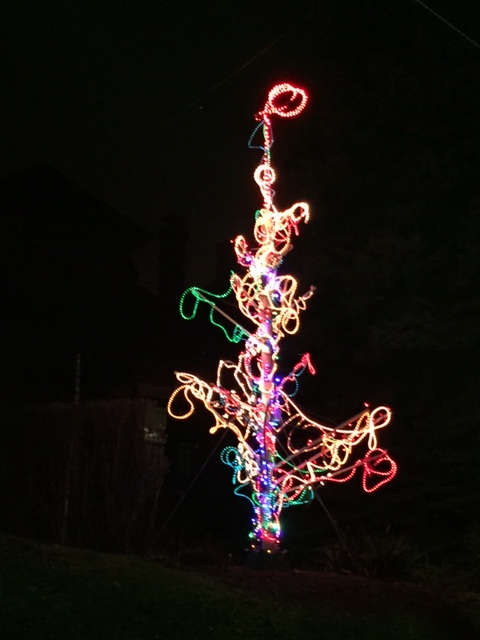 It's decorations like these that make me appreciate the time and effort someone put into something that isn't as mainstream as the others you would see around town.
Next, I traveled to a street called Goddard Avenue. It's an odd street if you looked at it on a map. As soon as I rounded the corner, there were plenty of houses that caught my eye. Up until this point of my journey, I wasn't too impressed and I thought my trip would find all streets lacking lights. But Goddard Avenue did not disappoint: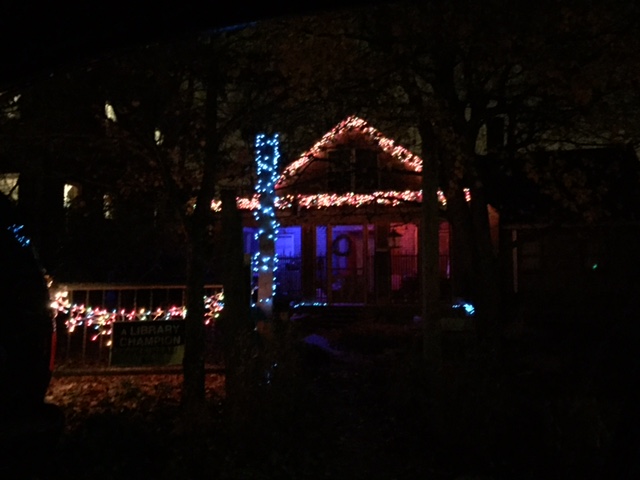 There were at least ten houses on the small street that were lit. It was a great sight.
I ventured over to Edenside Avenue, Baringer Avenue, and Cherokee Road. They were all worthy of one photo per street: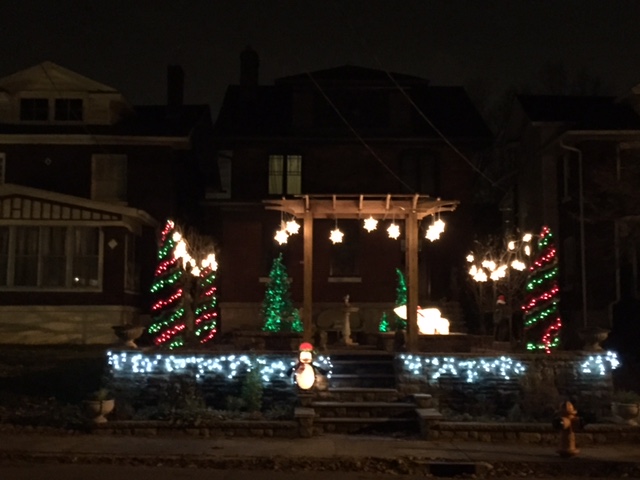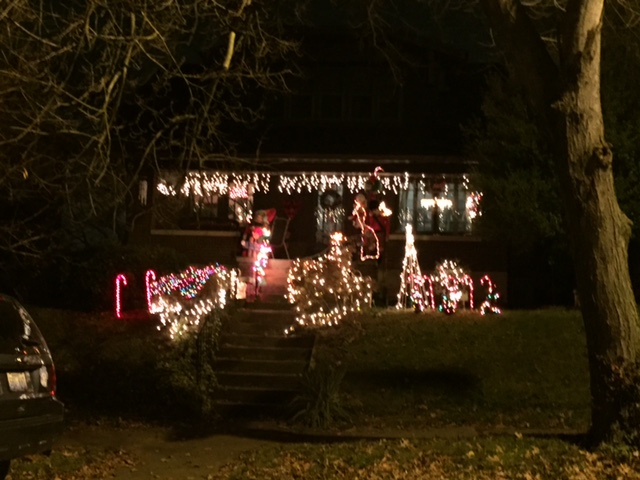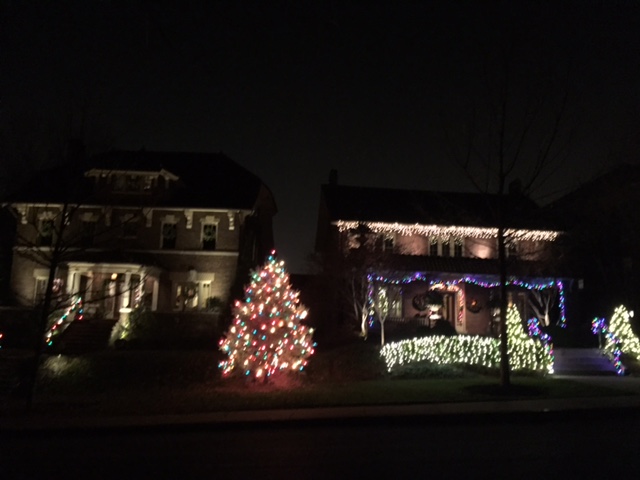 My favorite part of my trip was going to the "upper end" of the Highlands. These people definitely have money and they show it well through their decorations. One of the most sought-after streets is Casselberry Avenue. I adore gawking at these houses during the day and the lights made it that much more enjoyable: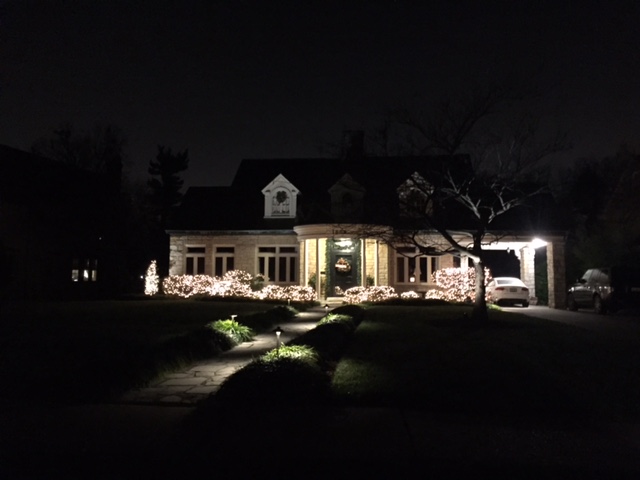 This street just exudes class and style to me. As I drove around this eastern side of Bardstown Road, I went up and down each street trying to find the best houses to show off. This side did not disappoint! After Casselberry Avenue, I ventured to Woodford Place: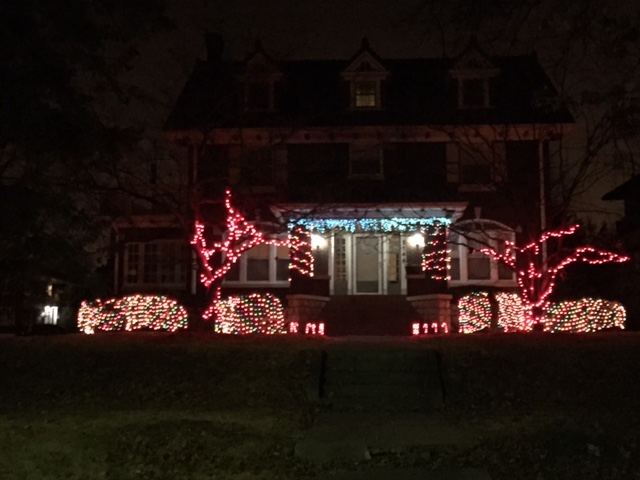 Then to the western side of Bardstown Road to Rutherford Avenue: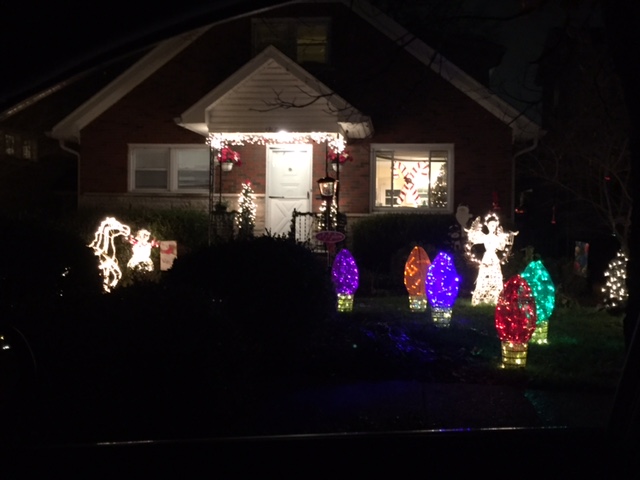 Then Princeton Drive, which had about twenty decorated houses, all with their own styles!: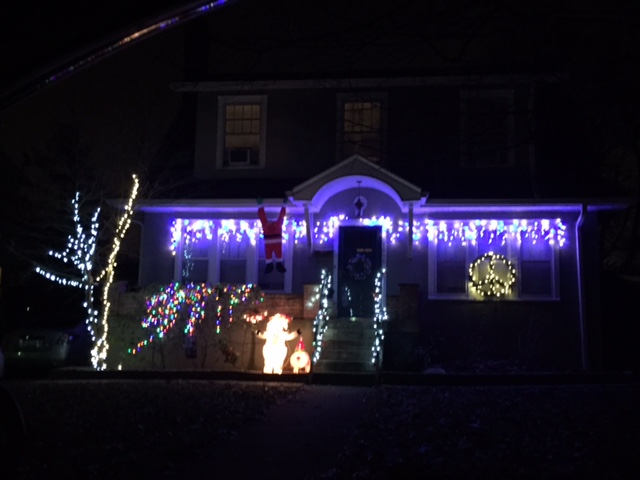 I favor this house in particular because of Santa hanging from the roof and the peace sign in the window on the right. Princeton Drive is definitely one of the roads I voted the best to drive down very slowly to take in all of the beautiful lights that light up the street.
I eventually made my way over to Trevilian Way, which is a long street that many use to get from one side of the Highlands to the other. I remember driving down Trevilian Way before and seeing a plentiful number of houses decorated for the holidays. What I love about this street and Dundee Road, a street that crosses Trevilian Way, is you can see the backs of houses with their humongous Christmas trees in their beautiful big windows. It was a different perspective I had not expected to run across. But I eventually took a turn off that street and found a side street that I voted the absolute best to drive down if you want to be awe-inspired: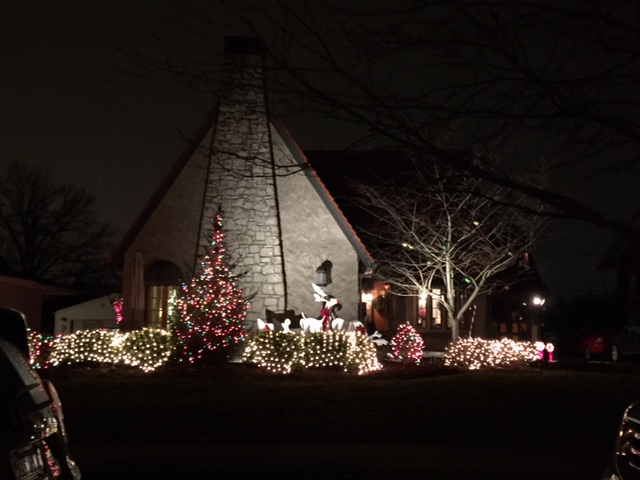 This house is just one of the many houses decorated on Lowell Avenue. It was definitely a sight to see and without a doubt the highlight of my entire trip. Lowell Avenue is a small street with speed bumps that runs between Bardstown Road and Dundee Road. I had to stop my car for a little while to appreciate every single house I saw on this tiny street within the big area of the Highlands. If you just want to experience the best-decorated street in the Highlands (in my opinion), go to Lowell Avenue.
My last leg of the trip again took me to the eastern side of Bardstown Road. I ventured down Douglass Boulevard and Woodbourne Avenue. But I went to the Seneca Gardens area and probably found the best house of my journey, in a creative sense: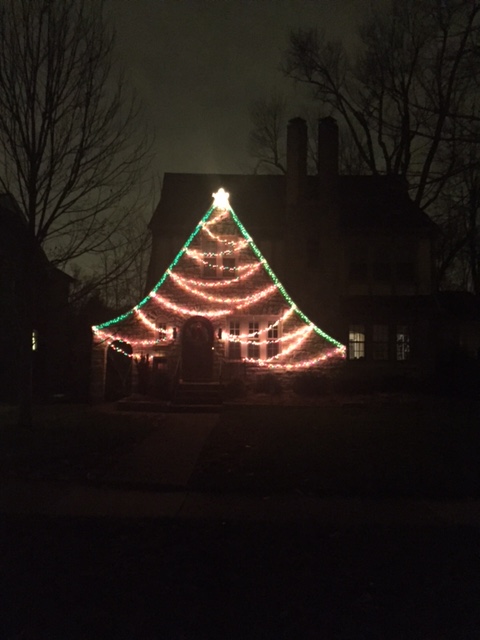 I love A-Frame houses anyway but this just took the cake for me. What a brilliant way to show off the unique structure of your house! It's innovative, yet simple. I don't think this house needs anything else added. If I lived in an A-Frame house, I just might have to steal this beautiful idea. I found this house on the corner of Meadow Avenue and Trevilian Way (The other Trevilian Way).
After this house, I thought I had seen it all and it was time to go home. I enjoyed every bit of this project because 1) I love Louisville and everything it has to offer, and 2) my visual brain soaked up every single house and their creativity, brightness, and the obvious joy it was to decorate each one. This project made me think of the true reason we decorate our houses every holiday season: to bring joy to others and light up your everyday life in the season of giving and gratitude.
Happy Holidays, everyone! Next week, St. Matthews!
- Emily Strobel